We are an accumulation of our choices and what we eat or how do we go about our nutrition makes no exception.
Well today, we're here to tell you that there is no one universal solution for all and we should expand our knowledge a bit more to enable us to make informed and right choices which are relevant for our unique and individual being and the ability to maintain a fit physique and a healthy body.
But don't worry, it is actually easier than it sounds.
Similar to everything else that Mother Nature, the genius architect, has created, that too has already been reprogrammed into our systems. All we need to do is listen carefully to our bodies' needs. And to be able to do that, we need to learn about and discover our bodies, how do they operate, what are their strengths and weaknesses.
While this is a more complicated process that would require more time, sometimes even consulting a specialist or two in the field, think about cravings. They are the quickest, easiest signals we receive to take action. The trick here is to go beyond the desired food itself to the need it is meant to fulfill. In other words, craving a chocolate for example, actually means that your body needs magnesium. And while stuffing your face with that chocolate bar would feel great for the minute or two it takes you to digest it, you'll be stuck with the guilt afterword but more importantly you'll have an intake of 556 calories, out of the needed 2000 calories (avg.) per day.
Furthermore, there is another view to that same story. While we should be careful about eating or snacking a particular food out of habit, craving chocolate (to use that same example) could also be a signal of low oxytocin, making you hungry for love 😊 Chocolate contains the feel-good chemical – phenylethylamine which the brain creates when we're feeling romantic love. While eating that chocolate bar would release serotnonin and dopamine which are the hormones of feeling good, the magnesium and theobromine it contains will reduce levels of stress hormones and promote muscle relaxation. No wonder chocolate is sold most on Valentines' Day 😊
Thus alternatively, being able to read between the lines will enable you next time when you crave a chocolate, to reach for a handful of raw nuts and seeds which are high in magnesium but contain 150 – 200 calories (for a handful or avg. 30gr.). Adding a slice of pineapple will ensure a rise of feeling happy and good as it contains serotonin-the happy hormone. So would adding some exercise or simply spending some time outside in the bright light as we already know from our previous articles.
Last but not least, don't forget about water intake as we all know that up to 60% of the adult human body is composed of water. And water is needed in so many essential functions.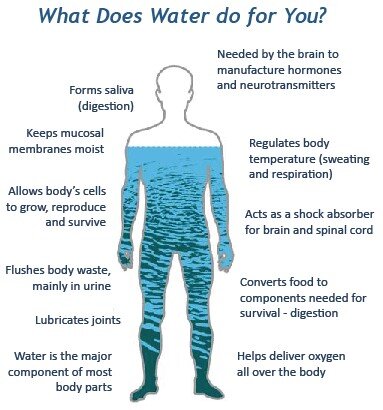 Often a signal for thirst could be mistaken for hunger, accumulating on those daily calories fairly quickly but leaving us dehydrated. Some of the signs of insufficient water intake are dry mouth, dizziness, headache, fatigue, increased thirst and dark/decreased urine.
While there are plenty of online calculators available, here is a simple formula to help you calculate the needed water (in liters) to drink a day. Your Weight (in Kg) multiplied by 0.033. For example, if you are 60kg, you should drink about 2 liters of water every single day. Drinking too much could be dangerous too so have a sip every time you feel thirsty and listen to your body.
So read on and continue building your knowledge and ability to decipher the signals of your bodies the right way, seek a professional if you feel you need a little support and most importantly – be consciously present in the choices and actions you take in regards to your bodies, you'd be thankful you did.
Stay healthy!
P.S. Below are a few simple charts you could save for future reference.