GAIN CLARITY AND BOOST YOUR CONFIDENCE TO ACHIEVE YOUR GOALS AND
CREATE THE FUTURE OF YOUR DREAMS
Are you someone who craves more balanced, meaningful and fulfilled life?

Are you someone who likes taking focused action in your personal or professional life every day?

Are you someone who thrives on being organized, taking action, getting results and being empowered for success in your business, career and life daily?

Are you someone who needs proven methodology, simple steps to discipline and energy for profound results

in your life?
If you are looking for a daily practice to gain CLARITY and boost your CONFIDENCE to dream big, achieve your goals and CREATE true transformation - you will love discovering your power combination with MY ELEMENTS JOURNAL.
"LIVING A FULFILLED LIFE IS NOT A PRIVILEGE, IT'S OUR RIGHT." ~ Nadia Tsvetanova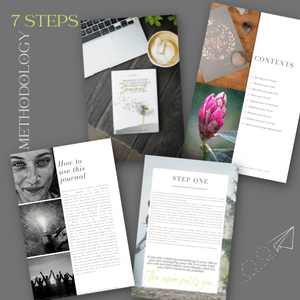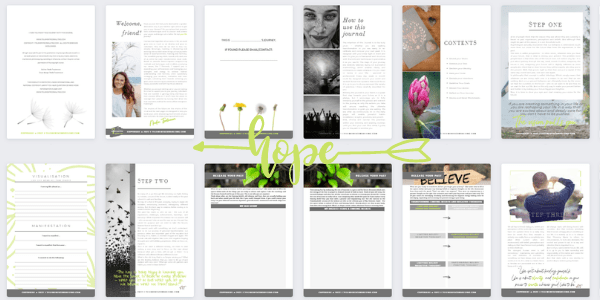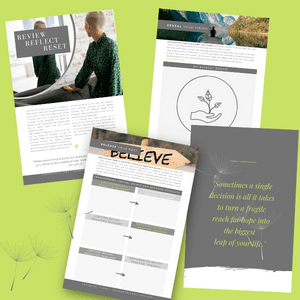 Get access to free self-assessment and self-management tools and updates.
Enter your best e-mail address to receive the first step of the methodology along with the exercise to Reveal your Vision.
A methodology that enables awareness development and growth. A powerful framework that not only gives the WHAT but also the WHY behind the steps so going forward you could pick and choose the habits, rituals and systems that are right for you.
Gorgeous minimalistic soft gloss covers in WHITE and in GREY colour that are stylish and easy to maintain;

246 beautiful full colour pages (15.5cm. x 23.5cm.) with elegant design for your daily, monthly and weekly action planning, progress tracking and habit installation including:

30+ pages guiding you through the 7 Steps Methodology;

3 months journaling pages -> 90+ UNDATED structured pages +

90+ blank pages;

15+ organazing, planning, tracking pages.

Yearly Goal Setting Page;

Monthly Action Plan Pages;

Monthly Goal progress/ Habit tracker Pages;

Daily pages with morning intentions, evening reflections and powerful habits;

Daily gratitude and affirmations along with vision focus and manifesting steps;

Creative space for your ideas, inspiration or to do list;

Self-disovery journaling prompts enabling self-discovery and 20+ powerful coaching questions encouraging self-reflection;

Everything you need to focus on daily, organized in one page.

TRY IT, YOU WILL BE AMAZED!
Full colour pages that are not only beautiful but practical as well. Plenty of discovery space in the methodology part, complemented by well organized daily pages including valuable practices, blank pages for creativity or reflection as well as monthly and quarterly review and reset pages, planners and trackers.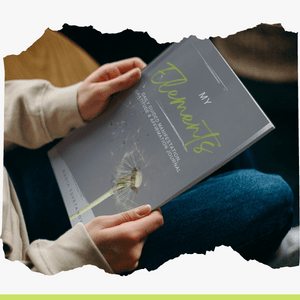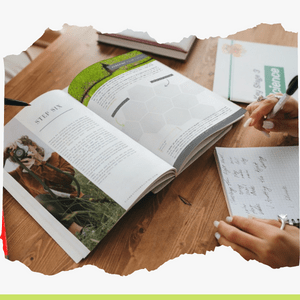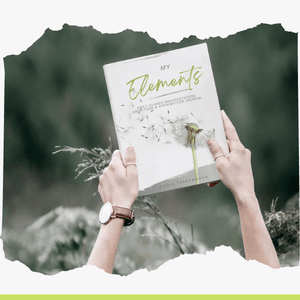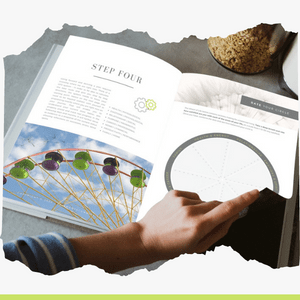 SIMPLICITY + CONSISTENCY = RESULTS
CLARITY + CONFIDENCE = CREATE

The big moments in our life are a sum of little decisions we make everyday and journaling is how we make contrast with ourselves. It is scientifically proven to help with:
Improving self awareness

Finding inspiration

Gaining confidence

Achieve goals

Track progress and growth

Improve communiation skills

Reduce stress and anxiety

and many more.
While you may be tempeted to use your electronic device for many of the same purposes, handwriting actually has much more benefit such as:
Stimulating brain growth

Strenghtening memory

Fostering ideas

Improving learning

Sharpens critical thinking

Clarifying purpose and meaning

Improving self-reflection

Writing is a natural extention of readi

ng.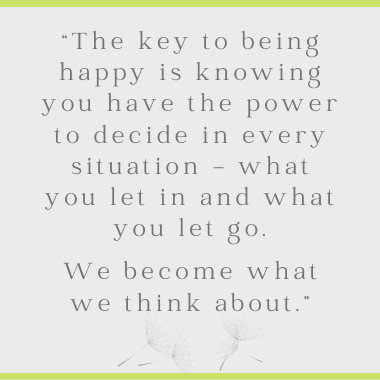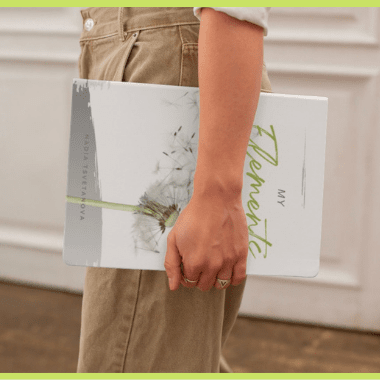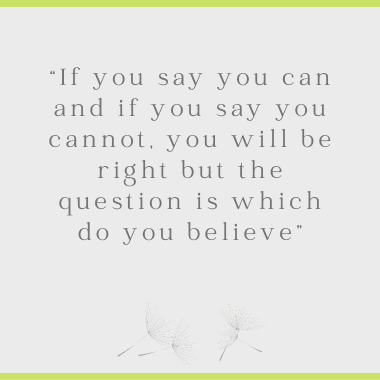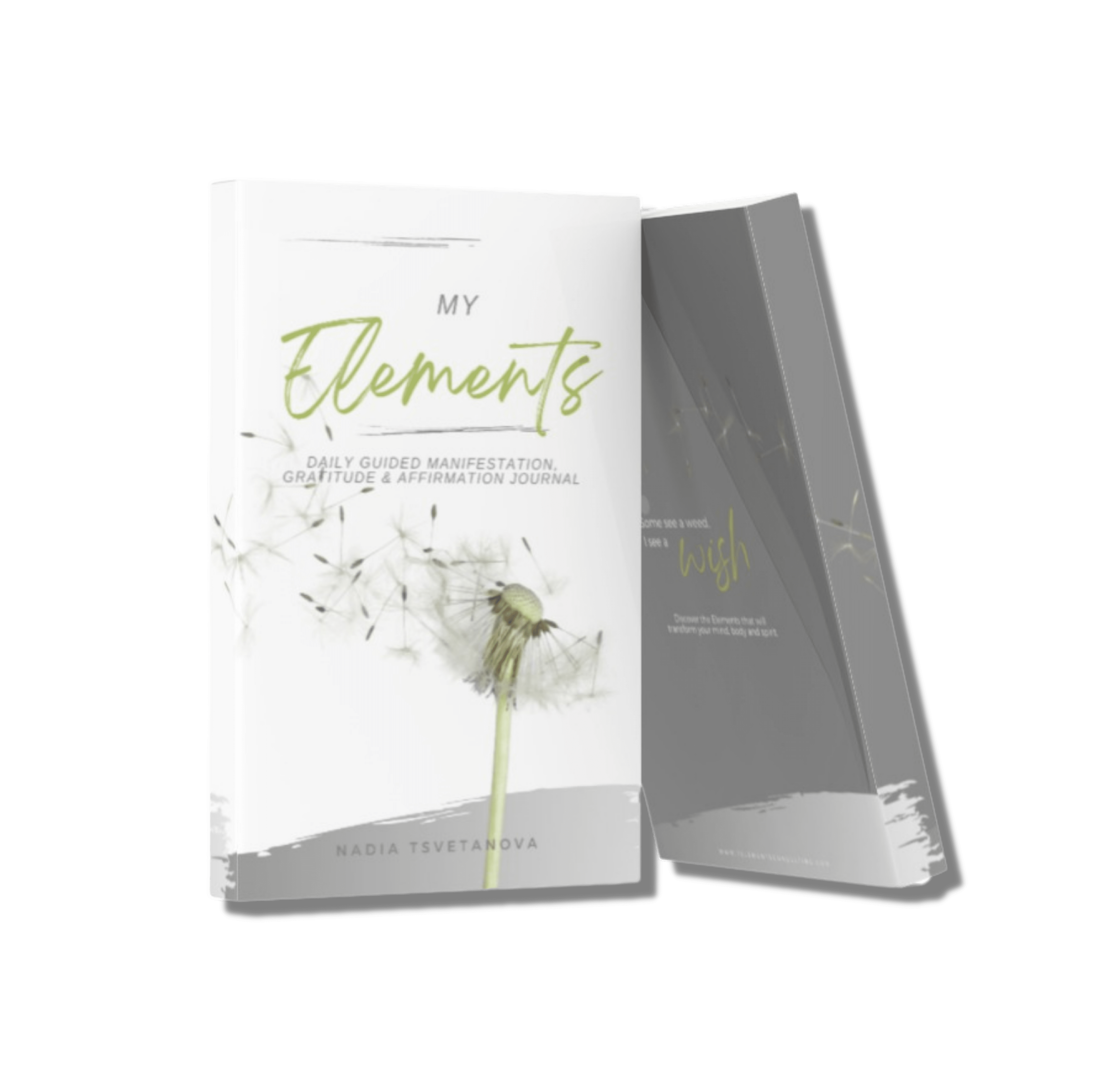 MY ELEMENTS Journal, WHITE Cover - 37lv.
MY ELEMENTS Journal, GREY Cover - 37lv.
1 + 1 MY ELEMENTS Journal - 70lv.
Free shipping to a courrier office on orders above 79lv.**
*Kindly include the following information with your order: Number of journals; cover colour, recipient full name, telephone number, delivery address (private or courrier office).
**All orders are sent within 2-3 business days with cash on delivery.
***Cost of delivery is calculated by courrier services provider.
****For corporate orders, please use the contact form for personalised offer.
Delivery address in Europe - get your order here*


---
*Available through your Amazon marketplace.
Delivery address outside of Europe - get your copy*
"Not just a journal, but a philosophy for a joyful, purposeful and fulfilled life."